Dental Implants in Maple — a natural looking solution for missing teeth
If a missing tooth or ill-fitting dentures are effecting your confidence, speech, or diet, it's time to regain your confidence with natural looking dental implants — a permanent solution to replace missing teeth. A dental Implant is a "fixed solution" as opposed to removable options such as partial or complete dentures. Implant dentistry is the most advanced therapy available to replace missing teeth providing excellent support and stability.
Dr.Forman and Dr.Ranu in Maple constantly see patients that have missing teeth due to trauma, decay, periodontal disease, or even genetics. Regardless of the reason, know that replacing missing teeth quickly is critical to prevent other complications such as fractures, shifting in surrounding teeth, TMJ, and gum problems.
Replacing a missing tooth also helps you obtain whole body health by improving digestion as an dental implant enables you to chew your food properly which allows your body to better absorb vitamins and minerals easier.
Implants — A Better Investment For Your Smile
A dental implant is used to replace the root of your natural tooth. It is made of high quality titanium metal and fits into your jawbone. Once inserted, an artificial tooth is connected to the implant. The implant helps to keep the replacement tooth in its specific position permanently.
Make Denture Disruptions a Thing of the Past.
Eat what you want, when you want. It's the freedom of dental implants. With so many options available, don't let dentures hold you back. Dr.Forman and Dr.Ranu will provide you with timely, affordable, and professional dental implant treatments that make denture disruptions a thing of the past. Choose from a variety of seamless dental implant solutions that fit your budget.
Custom-Built To Fit Every Jaw
At our Maple dental clinic, the dental implant process beings with an examination of your mouth and x-rays of your head, jaw, and teeth to determine if dental implants are the best solution for you. After the examinination, the dentist will help you determine whether dental implants are the best option for you. The ideal candidate for dental implants will be in fine health, have healthy gums, and have the needed amount of jaw bone to support a dental implant. If you don't have a sufficient amount of bone in your jaw, bone grafting may be a better option for you.
Implant Retained Crowns & Bridges
If you're missing between one and four consecutive teeth, you will most likely require an implant supported dental crown or fixed bridge attached. Similar to traditional crowns and bridges, these tooth replacement prosthetics are crafted to look just like the portions of the tooth visible above the gum line when viewed from the top. However, they are partially hollowed on the inside so they can be attached to the dental implant.
Dental implant tooth replacement is accomplished in two phases. During the initial phase implant posts are surgically positioned into your gum line. The procedure is relatively simple. Our Maple dentist makes a small incision in the soft tissue and inserts an implant post into your jaw. Once in place, a protective cap is put in place to keep the implant accessible until you heal. Over the next three to six months, the dental implant bonds with the supportive gum and bone tissue, simulating your natural root structure. Following this bone adherence period, you'll need to return to our office where we'll attach your restoration.
The level of discomfort during the dental implant procedure is relatively low. Most of our patients do not end up taking the pain medication which is prescribed to them at the time of the procedure.
If you are having more than one dental implant done, a fixed bridge will also be an option for you. This bridge would replace multiple teeth by covering a section of your mouth that is missing teeth. A single dental crown or two fused together in some cases can be supported by one implant post. Bridges that consist of three or more replacement teeth will need to be anchored to at least two implant posts, one on each end.
Implant Retained Prosthetics
Should you have more extensive tooth loss, an implant retained prosthetic may be the answer.
Skillfully created partial or full dentures that closely resemble traditional prosthetics will be affixed to dental implants for support. Typically, four to six implant posts is sufficient to provide complete stability for dental implant supported dentures.
A Permanent Solution With Minimal Effort
Maintain proper oral care and dental hygiene habits to make your dental implants last as long as a natural tooth would.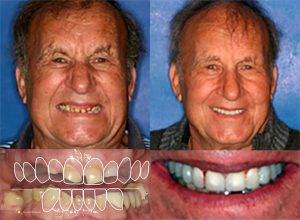 Regain your freedom with a permanent smile in Maple!
Book An Appointment