Peach, Tomato & Corn Arugula Pasta Salad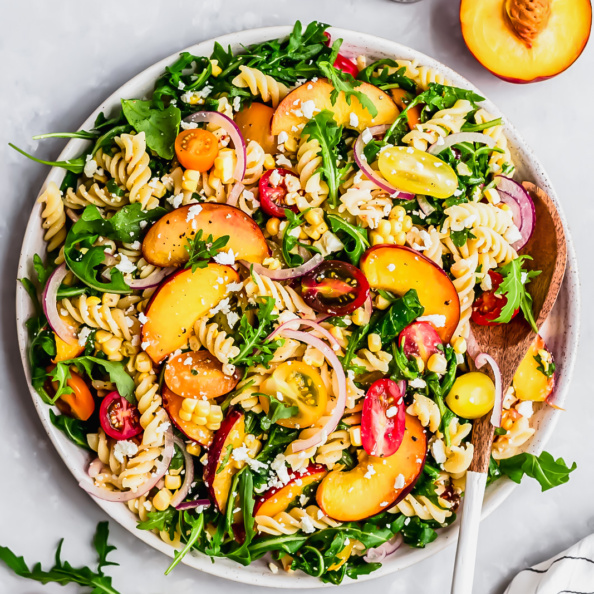 This easy, vibrant and flavourful salad recipe is the perfect addition to your summer picnic or backyard BBQ sessions! Made with seasonal ingredients such as juicy ripe peaches, cherry tomatoes and sweet corn, this dish can be enjoyed on its own or as a side dish to accompany salmon or chicken.
Ingredients: (serves 6)
1 cup fusilli or bowtie pasta
2-3 tablespoons extra virgin olive oil
1 lemon, juiced
1/2 teaspoon sea salt, plus more to taste
Lots of freshly ground salt and pepper
1/4 teaspoon of red pepper flakes
3/4 cup crumbled feta or goat cheese
2 large ripe peaches, sliced
2 cups cherry tomatoes, halved
1 cup raw corn off the cob
1/2 medium red onion, thinly sliced
6 packed cups of arugula
Instructions:
Bring a large pot of water to a boil and add a little salt. Once water boils, add the pasta and cook until al dente, about 7-9 minutes. Drain pasta, reserving a few tablespoons of water for later. Place pasta in a large bowl.
In a small bowl, whisk together the olive oil, lemon juice, salt, pepper and red pepper flakes until well combined. Pour the dressing over warm pasta and add a little reserved pasta water to help keep the pasta moist and non-sticky. Immediately add feta and gently give the pasta a toss.
Next add in the peach slices, cherry tomatoes, corn, red onion and arugula. Toss to combine. Add more olive oil, lemon juice, salt and/or pepper, if necessary. Tastes great, warm or cold!
Recipe courtesy of Monique - Ambitious Kitchen.