Pumpkin Chocolate Chip Bread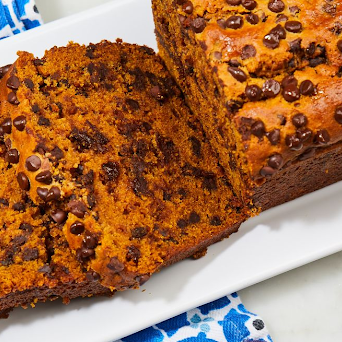 Nothing says fall like the sweet smell of freshly baked pumpkin bread. This version is not only loaded with chocolate chips but is also incredibly moist and tender! This recipe is perfect for a Thanksgiving dessert, a movie night treat, or a cozy morning breakfast that would go well with a cup of your favourite tea or coffee!
Ingedients:
Cooking spray
2 cup all-purpose flour
1 tsp. ground cinnamon
1 tsp. baking soda
1/2 tsp. baking powder
1/2 tsp. Kosher salt
1/2 tsp. ground ginger
1/4 tsp. ground nutmeg
1/2 cup (1 stick) melted butter
1 1/4 cup granulated sugar
1 cup pumpkin puree
1/4 cup sour cream
2 large eggs
1 tsp. pure vanilla extract
1 1/4 cup mini chocolate chips
Instructions:
Preheat oven to 350°. Line an 8" x 4" loaf pan with parchment paper then grease with cooking spray.
In a large bowl, whisk together flour, cinnamon, baking soda, baking powder, salt, ginger, and nutmeg.
In a separate large bowl using a hand mixer, beat melted butter, sugar, pumpkin puree, sour cream, eggs, and vanilla.
Gradually add dry ingredients to wet ingredients until just combined. Fold in chocolate chips, reserving 2 tablespoons for topping loaf, and transfer batter to prepared pan. Smooth top with an offset spatula and sprinkle with remaining chocolate chips.
Bake until a toothpick inserted into the center of the loaf comes out clean, about 1 hour to 1 hour 20 minutes, covering the top with a foil tent after 1 hour if top appears to be getting too dark.
Let cool for 15 minutes before removing from pan and slicing.
Recipe courtesy of Delish.com.