Chickpea and Vegetable Coconut Curry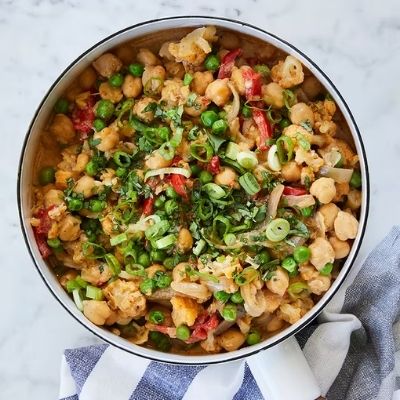 The shortest month of the year can sometimes feel extra long due to the dreary winter cold. Why not spice it up with this cozy and fulfilling curry recipe? The ingredients in this recipe can be swapped for any veggies you've got left in your fridge, so feel free to improvise!
Ingredients (serves 4):
1 tablespoon extra-virgin olive oil
1 red onion, thinly sliced
1 red bell pepper, thinly sliced
1 tablespoon fresh ginger, minced
3 garlic cloves, minced
1 small head cauliflower, cut into bite-size florets
2 teaspoons chilli powder
1 teaspoon ground coriander
3 tablespoons red curry paste
One 14-ounce can of coconut milk
1 lime, halved
One 28-ounce can of chickpeas
1 and 1/2 cups frozen peas
Kosher salt and freshly ground black pepper
Steamed rice, for serving (optional)
1/4 cup chopped fresh cilantro
4 scallions, thinly sliced
Instructions:
In a large saucepan, heat the olive oil over medium heat. Add the onion and bell pepper, and sauté until nearly tender, about 5 minutes. Add the ginger and garlic, and sauté until fragrant, about 1 minute.
Add the cauliflower and toss well to combine. Stir in the chilli powder, coriander and red curry paste, and cook until the mixture begins to caramelize, about 1 minute.
Stir in the coconut milk and bring the mixture to a simmer over medium-low heat. Cover the saucepan and continue to simmer until the cauliflower is tender, 8 to 10 minutes.
Remove the lid and squeeze lime juice into the curry, stirring well to combine. Add the chickpeas and peas, season with salt and pepper, and bring the mixture back to a simmer.
Serve with rice, if desired. Garnish each portion with 1 tablespoon cilantro and 1 tablespoon scallions.
Recipe courtesy of Pure Wow.