Stir-Fried Eggplant with Basil and Chilies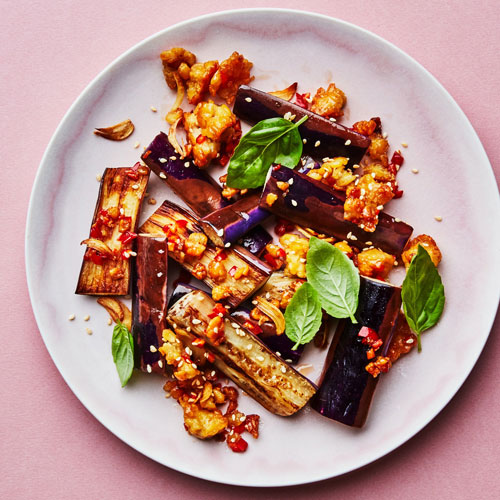 August is peak eggplant season! Eggplants are packed with many good vitamins and minerals, very few calories, and are also high in antioxidants. This delicious and easy-to-make recipe is a flavourful way to add eggplant to your weekly dinner. Look for Japanese or Chinese eggplant varieties that are longer and thinner, which are less bitter and can become creamy-tender with minimal cooking.
Ingredients (serves 2)
2 red chillies, such as cayenne, Fresno, or jalapeno
1 tbsp honey
A pinch of salt
3 medium eggplants
3 tbsp extra-virgin olive oil, divided
1/4 lb (250g) ground meat (chicken or pork) or crumbled tofu
3 garlic cloves, thinly sliced
1 tsp toasted sesame seeds
1/2 cup basil leaves, plus more for serving
2 tbsp unseasoned rice vinegar
2 tsp soy sauce
Directions
Finely chop chillies and toss in a small bowl with honey and salt. Let sit until ready to use.
Slice eggplants crosswise into 3-inch pieces, then quarter lengthwise. Heat 2 tbsp of olive oil in a large nonstick skillet over medium-high heat until shimmering. Cook eggplant, tossing occasionally until browned and crisp-tender, about 6-8 minutes. Transfer to a plate.
Heat remaining 1 tbsp of oil in the same skillet. Cook ground meat or tofu, breaking into small pieces, until browned, about 2 minutes. Add garlic and sesame seeds and cook, tossing, until very fragrant, about 1 minute. Add basil leaves and toss until wilted, 2-3 minutes.
Stir rice vinegar and soy sauce into the chillies mixture. Return eggplant to skillet and add half of the sauce. Cook, tossing often, until eggplant is tender, 1-2 minutes more. Season with salt if needed.
Transfer eggplant stir-fry to a plate and drizzle with remaining sauce. Top with more basil.
Recipe courtesy of Bon Appetit.