Chickpea Apple Broccoli Salad with Honey Dijon Dressing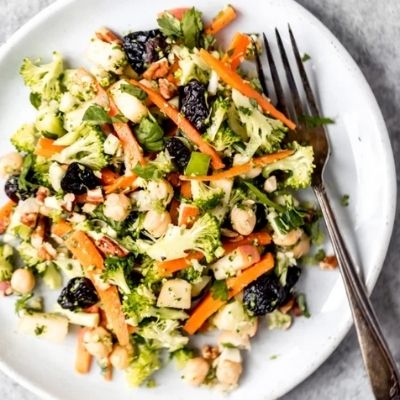 September is apple and broccoli season. Pick up local fresh produce to create this healthy and nutritious salad in under 20 minutes. What better recipe to enjoy with in-season ingredients! You'll want to make this recipe, with the freshness from broccoli and apple, the crunch from pecan and carrots, the rich protein from chickpeas, and a hint of refreshing sweetness!
For the salad:
1 head broccoli, very finely chopped
1 (15 ounces) can of chickpeas, rinsed and drained
2 cups diced honeycrisp apples (from about 2 medium honeycrisp apples)
1 cup shredded carrots (or 1 cup matchstick cut carrots)
1/3 cup diced green onion
1/3 cup dried cherries
1/3 cup chopped pecans
1/2 cup chopped flat-leaf parsley
For the dressing:
3 tablespoons olive oil
1 1/2 tablespoons apple cider vinegar
1 tablespoon dijon mustard
1/2 tablespoon honey
1 clove of garlic, minced
Freshly ground salt and pepper, to taste
To garnish: Extra cherries and pecans
Instructions: Serves 4
In a large bowl, add finely chopped broccoli, chickpeas, apples, carrots, green onion, dried cherries, pecans, and parsley. Set aside.
Make the dressing by whisking together the following ingredients in a small bowl: olive oil, apple cider vinegar, dijon mustard, honey, garlic, salt and pepper. Immediately drizzle over salad and toss to combine.
Taste and add more salt and pepper, if necessary. Garnish with extra cherries and pecans and serve immediately or place in the fridge for later. Salad will keep well for up to 5 days.
Recipe courtesy of Ambitious Kitchen.