Creamy Vanilla Chia Pudding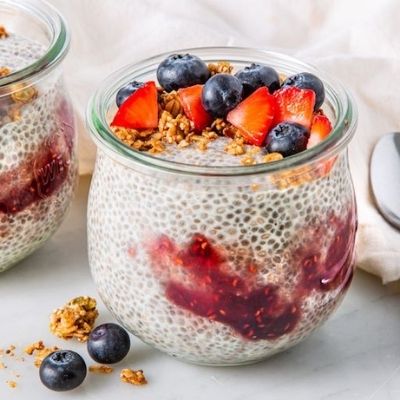 If you want to try something fruity, creamy, and light, check out this Chia Pudding! It's a versatile and delicious recipe that you could always adjust depending on what you have in the fridge or what you're in the mood for. You can add granola, fruits, and berries to your Chia Pudding, and adjust the sweetness by adding extra syrup. This recipe is easy, fast, and fun to make!
Ingredients:
1/4 c. chia seeds
1 c. almond milk (or milk of your choice)
2 tsp. maple syrup, honey, or agave nectar
1 tsp. pure vanilla extract (optional)
Pinch kosher salt
Sliced fruit, granola, jam, or nuts for serving
Instructions:
In a medium bowl, whisk to combine chia seeds, milk, sweetener of your choice, vanilla if using, and salt.
Cover and refrigerate until thick, 2 hours up to overnight.
Serve with mix-ins and toppings of your choice.
Recipe courtesy of Delish.